The Clearwater 90 ATU is an aerobic
Treatment Unit for Domestic Sewage. The aeration process of this unit speeds up the breakdown of solids while biological filtration produces a clear good quality effluent with reduced nutrient levels. A disinfection process ensures a quality suitable for above ground irrigation. The benefits of this system include the reuse of the wastewater for the garden, with evaporation and vegetation reducing phosphate levels and the ability for further
reduction with Nutrient retardant soil in the irrigation area. The system is suitable for areas close to the water table.

This system has a simple uncomplicated
design with a minimum of moving parts. The tank, internal chambers and cover are all
precast reinforced concrete made to the highest grade by Galvin Concrete.
All parts have a one year warranty, with a ten year warranty on the tank and cover.

Aerated Wastewater Treatment Unit for 10 persons

Specifications

Capacity
Working:7100 ltrs
Emergency:9320 ltrs
Dimensions
Diameter:2440mm
Height:2400mm
Dry Weight
6100kgs
Pipe Connections
Inlet:100mm Sewer Pipe
@ 1840mm Invert
Outlet: 32mm Preasure Pipe
@ 1920mm Invert
Overflow: 50mm Wastewater
@ 1860mm Invert
Electrical
Entry:20mm PVC
Aerator: 240 Vac 125 Watts
Pump: 240 Vac 750 Watts
With 5m Head
Cover
Loading: 5kN(non traffic)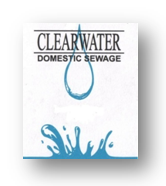 CLEARWATER DOMESTIC SEWAGE